Hello again, frens!
I just finished finalizing all of my February project pieces, so I'm back again for another project! It's going to be a little less structured this time, as I need to stretch out payments for this one.
I'm looking for multiple pieces of my FNAF OC, Skully the Scarlet Macaw. Specifically, I would like to have him drawn in various styles from different FNAF games. Like my February project, I could get anything from halfbodies to illustrations, it depends on the artist's price range!
The versions of Skully I'm looking for are:
– OG Skully (FNAF 1)
– Withered Skully (FNAF 2)
– Phantom Skully (FNAF 3)
– Nightmare Skully (FNAF 4)
– Glamrock Skully (FNAF SB)
– Human Skully (because fandom)
I may also choose to include Foxy in some of these pieces (because he's Skully's cap'n).
Because of the nature of the games Skully is from, and the nature of his design, artists must be comfortable with the following:
– Blood/Gore
– Mecha/Robotics
Here's his reference sheet, this is his FNAF 1 design: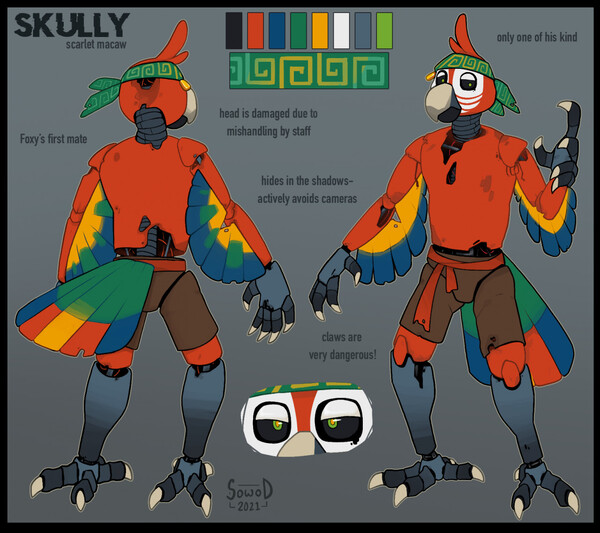 "Aye. Sometimes, I wonder what it's like to be free from this bird cage- to know the open sea.". . Skully has been out of commission for …
www.furaffinity.net
I exclusively do transactions over PayPal. Thank you for your time, and I'm excited to see all of your portfolios again! ^..^