Free 3D Bust Your Character Here Raffle (SFW)
Rules below:
The raffle can be found here: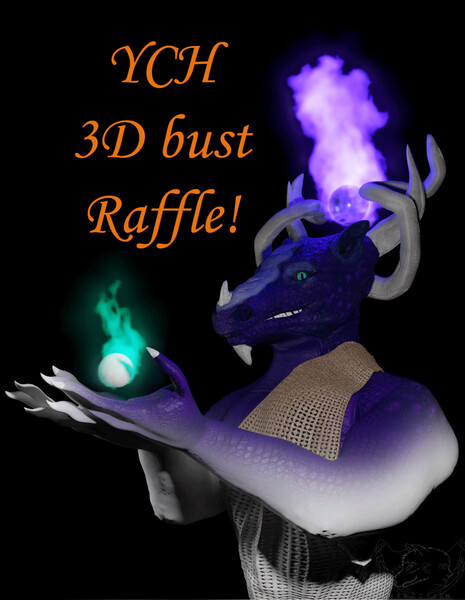 Yep we're going to do this again. With some slight changes to some things. . . Free 3D Bust Your Character Here Raffle (SFW). . Rul …
www.furaffinity.net
Hi there! I'm Wanting to try out a few new things, including working with others and building some confidence in my skills. I want to do something a little odd though. I want to open up a raffle for 2 slots, but with another 2 slots for me to choose people with sonas or a character with features I need or want practice with.
-This will be a SAFE FOR WORK piece (I don't put it past some of you creative types to somehow make a bust piece NSFW).
-This will be a bust Model; so the head and shoulders, arms and hands. Clothing and armor may be accepted on a case by case basis (not all fictional apparel is able to move correctly in 3D)
-There will be 2 raffle Winners, and I will choose 2 more participants as extra winners who have a character or sona that has features I would like to personally work on or improve my skill with.
-Sorry, but i'm going to require a ref sheet for this.
-If you try to post a NSFW ref sheet you will be removed from the raffle chance. If you want to participate but don't have a SFW ref sheet post a comment and I'll DM you for your ref sheet (though the piece will still be SFW).
-Please don't try to use multiple accounts to increase your chances. If you are caught doing this you will be removed from the raffle chance.
-I'm still not comfortable with trying to force people to sub/follow for a chance to win a slot. So I'm offering a choice to increase the chance for a slot. The chances to win a slot are listed as such:
1 base chance for commenting with a link to your ref sheet.
+1 for making a journal with a link to the raffle on FA (post link in comment to verify)
+1 "+watch" my FA page.
+1 for commenting on my twitter Op ()
+1 for retweeting Original Post.
+1 For following my twitter (https://twitter.com/SMercurium)
That's 6 chances total
-Participants from former raffles are more than welcome to try their luck again!
Winners will be announced via journal and contacted through DMs with my email address to keep in contact during the creation process and sent a link to the final piece.
The final package link will contain a zip file with:
-a High quality unwatermarked png for personal use.
-a standard quality watermarked png for uploading to your own profiles.
-a watermarked gif turntable for uploading to your own profiles. (I will try to keep under 10mb for most websites)
-Upon request I will also include the 3D blender file, as long as the recipient understands that it is not the artist's job to teach the program or how to use the rigged character (as in the TOS)
-The Raffle will close by July 27thth 2021 at 0000 (12am), Winners will be announced soon after.
My TOS: https://www.furaffinity.net/journal/5775483/
Examples of my 3D work:
https://www.furaffinity.net/view/37640026/
https://www.furaffinity.net/view/42836493/
https://www.furaffinity.net/view/40469812/
https://www.furaffinity.net/view/37214785/
The raffle can be found here: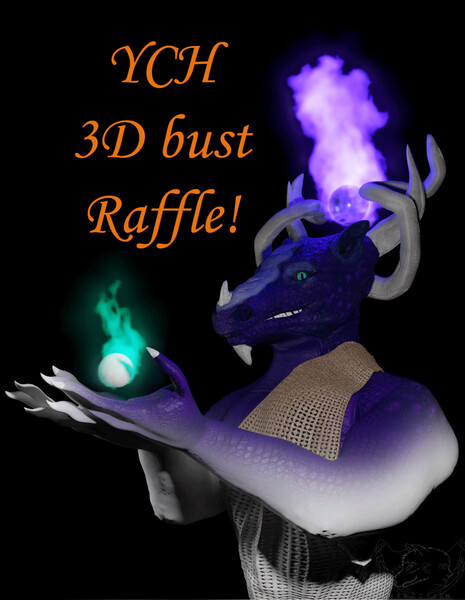 Yep we're going to do this again. With some slight changes to some things. . . Free 3D Bust Your Character Here Raffle (SFW). . Rul …
www.furaffinity.net